Chancellor Creates Staffing Crisis
August 28, 2020 pm31 2:02 pm
Can Carranza and de Blasio do anything else wrong? Question sounds rhetorical – but it has an answer. Yes, yes they can. On Wednesday night they sent out Blended Learning and Fully Remote Teaching and Learning and instantly blew to smithereens opening plans in hundreds of schools.
Here's what the document lays out:
There will be three kinds of teachers:
Teachers teaching fully remote students, called the Fully Remote Teacher (this does not mean the teachers are remote, just the students)
Teachers teaching the in-person part for students in a blended learning model, called the Blended Learning On-site Teacher
Teachers teaching the remote part for students in a blended learning model, called the Blended Learning Remote Teacher
Virtual Content Specialists would be teachers without a teaching load – I don't think there will be any.
And that's where the problem begins. A student in the blended learning model will have an in-person teacher, who is teaching the same hours, with the same student load, as a fall 2019 teacher would have. And that student will also have a remote teacher. Where is that remote teacher coming from? Let's think about high school
High School
Think about Cathy. Cathy taught five sections of US History last fall. This fall she is the Blended On-Site Teacher. And she is once again assigned five US History sections. On Monday she will see one-third of her students in person, in all five sections. On Tuesday she will see the next third of her students in person, in all five sections. On Wednesday she will see the last third of her students in person, in all five sections. And on Thursday she is back to the first group. Cathy has a full teaching load (could be 170 students), and a full schedule (25 periods per week).
In fact, everyone in the school could be teaching the same the number of students as back in 2019, and the same number of periods. There is NO ONE to teach blended remote.
Reality?  Some people with comp-time jobs could be returned to the classroom. The school could reduce the total number of sections, since some kids are going remote. Of course that will require the creation of some fully remote teachers as well. It is not though nearly enough to make up the deficit.
Elementary School
And in Elementary School? Imagine a grade with 150 students in 5 classes. 60 have opted remote. That's two fully remote teachers. The math works. But for the other 90 kids, their three teachers see a third on Monday, the next third Tuesday, and the last third on Wednesday, then back to the first group. Who is doing the Blended Remote Teaching? Instant staff shortage. Crisis.
Blended Remote Workload
One thing the DoE did, in the Blended Model FAQ they released at the same time, is make it okay for the Blended Remote Teacher to teach DOUBLE the class-size limit. Desperation sucks. The move is mean, both to the faculty and to the kids. And it is stupid. It doesn't solve the initial problem – there are not enough teachers to double the teaching staff, even if they can squeeze more kids into a remote blended class.
How would it work if there were enough staff?
Cathy teaches US History. Jay teaches US History. On any given day Cathy teaches 1/3 of her students. Let's pretend her classes are small, 33 kids each. So 11 are with Cathy, 22 are with Cathy's Blended Remote Teacher. Jay also has 33, 11 with him, 22 with his Blended Remote Teacher. Sounds like four teachers? Nope. The Department of Education has found a way to save personnel. The Blended Remote Teacher for Cathy is Helen and the Blended Remote Teacher for Jay is Helen. Helen is the Blended Remote Teacher for 10 classes (combined into 5). Helen seems to have 44 students at a time, which the DoE says is ok, and somehow the UFT agreed to.
This does not save very many teachers. It also does not make much sense. It is a bad idea for all 69 people involved, especially the 66 kids.
Humorists and Carranza come up with the worst ideas for school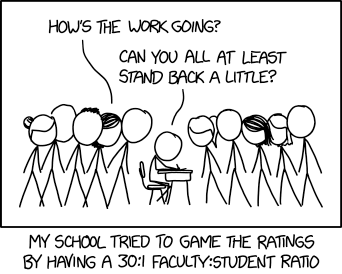 Coordination
There seems to be a complicated protocol for sharing content and information between Blended Learning On-site Teacher and Blended remote Teachers. As in the ICT model, which the DoE abuses, collaborative planning is hard and takes real work. The DoE is allowing half an hour each morning.
What Were Schools Planning?
That's an interesting question. The models laid out in the Blended document, they were explained, more or less, by Michael Mulgrew to UFT members, as early as the June UFT Town Hall and Delegate Assembly. But the DoE never put anything in writing, and schools were ignoring Mulgrew's instructions. Many schools were offering live teaching in person, and only asynchronous remotely, without an extra teacher. Your class was going to be your class.
Were There Problems with Schools Plans Before?
Yes. By having teachers plan simultaneously for remote and in-person instruction, the amount of preparation was going through the roof. We already learned from the spring that remote preparation, remote grading, etc, takes much more time than normal teaching. To look at Cathy's example, from above, she would be preparing five in-person lessons, and five similar lessons, but modified to be delivered remotely. And Cathy was teaching five sections of one class. Most high school teachers teach sections of more than one class. Or maybe Cathy's school was clever, and told her not to worry about the remote kids, just to assign them textbook reading. Not good.
Did the Unions Agree to This?
Apparently the UFT agreed with the DoE on this. Here is what Carranza wrote to principals:
Dear Principal,

Thank you again for your heroic work during this extraordinary time as we prepare to reopen our school buildings.

I am excited to report that the DOE has reached an agreement with the UFT over work rules for teachers regarding blended and fully remote learning. As we all recognize, a new paradigm for instructional programming is needed to provide students with appropriate learning opportunities under the social distancing parameters and the constraints we face. This new agreement with the UFT addresses key questions about how we can make that paradigm work in practice.

You will find instructional guidance and a preliminary FAQ…
The UFT shared the documents with me, suggesting I share them with my members. I hear the UFT is calling meetings to explain this to Chapter Leaders. Somehow I have not been invited to any such meeting.
The CSA responded to the Mayor and Chancellor differently:
We applaud your administration for its focus on science throughout this pandemic. We ask that you also focus on the math.
Anything Else?
Well, yes, there's a lot more. That's for later.